by Elisa Benini, Year III, Painting (A.Y. 2021/22), and Piermarco Cadei, Year III, New Technologies of Art (A.Y. 2021/22)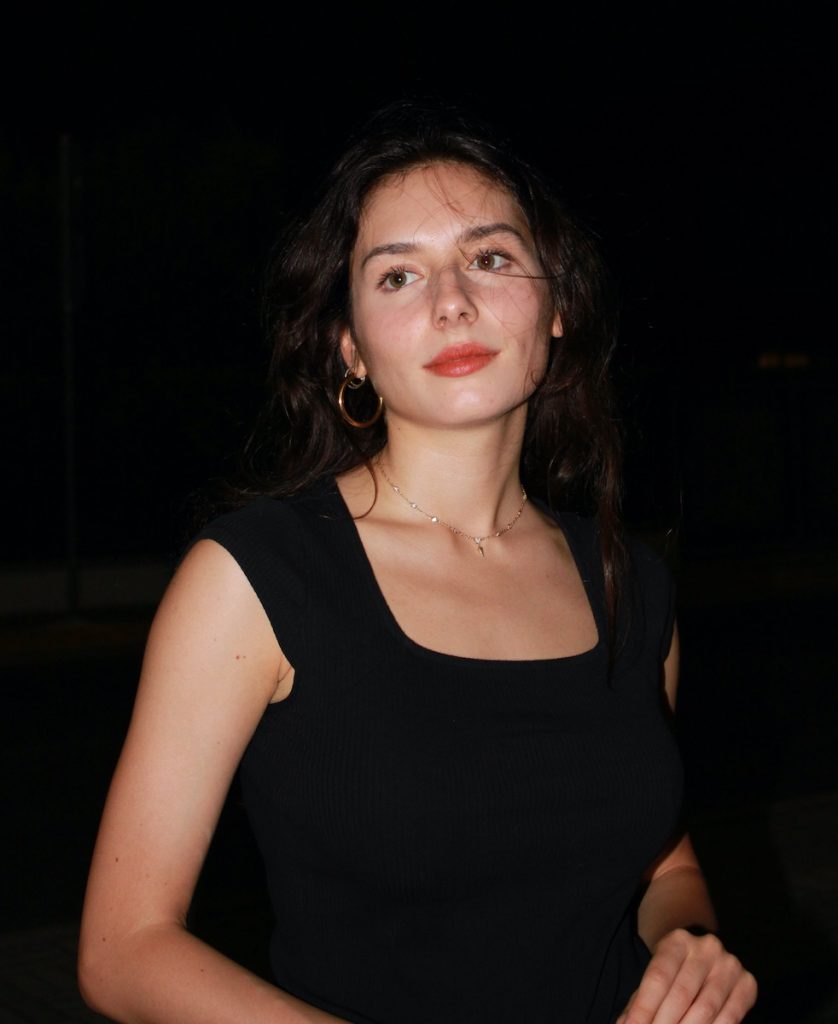 I am 22 years old and I was born and raised in Grumello del Monte, a village near Bergamo. I am a student of Painting at the "SantaGiulia" Academy of Fine Arts, in Brescia.

In my opinion, Figurative Arts open up a reflection and a research that extends into artistic fields such as theatre or writing, from which I draw inspiration.

I feel the need to express myself through heterogeneous forms, influenced by the natural world from which I consciously draw my inspiration. I materialize the images of landscapes that have settled in my memory and I grow their fruits and emotions through the act of painting, which is fundamental in my creative process. Moving to the rhythm of the vitality that follows my need to express myself is as important as the final outcome. The lines, shapes and colors all focus on dynamism, an essential part of the work, which is manifested in a dance of colors and movements upwards and downwards. This vital dance overwhelms me, and the wonder I experience cannot be compared to any other human motion: my intention is to reflect the wonder and will to live that emerge from the natural source of creativity.

I paint on canvas or paper using oil paints (both brush and pastel) and I experiment figurative pencil drawing.

I work with various other mediums as well, such as photography and video. During my academic career I developed an interest in color and its power to express emotions and add meaning to the subject. To me, each color is a shade of the soul that can turn lighter or darker. I like to use brilliant shades, but confined by thick dark lines or marked, sometimes dashed and others more edgy, underscoring a strong need to express malaise and contradiction. I also depict memories of my childhood to understand my past and to make eternal the memories I buried with the time.

– Elisa Benini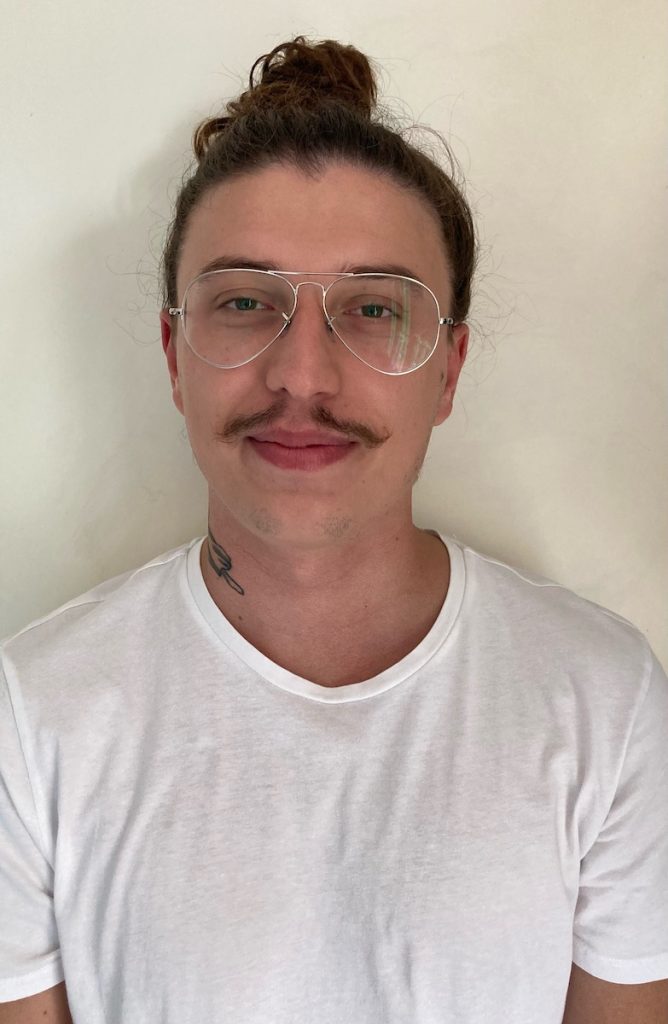 My name is Piermarco Cadei, I am 24 years old and I am attending the last year of the course of New Technologies of Art at the "SantaGiulia" Academy of Brescia. Before enrolling at the University I attended the Maffeo Olivieri Art School, specializing in Audiovisual and Multimedia; here I became fascinated with cinema and video editing. At the same time and without any formal training, I carried on my passion for composition of electronic music.
While still in high school, I had the opportunity to exhibit my projects in some local museums (Mo.Ca, Paolo VI Collection). These projects were photographs and videos related to my experience as a volunteer in Tanzania, during the summer between my fourth and fifth year in high school.

At university, I continued on the path I undertook while I was in high school. I shot video footage and photographs to document the Line Culture project, realized by a group of young people from all over Italy with the intention of promoting new contemporary artists.
In recent months, I have collaborated in some advertising productions. In particular, I participated in the filming and editing of a commercial for KIA.

If you ask me what I'll do "when I grow up", I'd have to answer that "I don't know yet". Luckily, I am an optimist, and I'm curious about everything that surrounds me. The choice isn't easy! The things I love are cinema, good food, design and music.

– Piermarco Cadei
The concept behind Center of Gravity
by Elisa Benini
The work represents the transformation about the vineyard, which becomes the source of another transformation, the wine. The earth thus creates a life cycle that moves following his rhythms consciously supported by a person who receives gifts from this flow.
The roots and leaves are born from the Center of gravity of the earth, marking a new season of triumph: the harvest. Everything requires patience and simplicity so a person follows the rules of the life of nature.
Awareness and moment are essential elements. The cluster that is reborn wine, the wine that is unrecognizable from the cluster – a cycle of research and modification, of constant instability and fracture.
Ca 'del Bosco winery shows the similarity and at the same time the conscious difference between man and nature: both remain in balance above the center of gravity of the earth and assimilate its rules but with different interactions.
---
Audio contribution The roots
by Piermarco Cadei
The roots penetrate earth in search of water that will allow plants to grow and flourish. The sound track for the installation recalls this evocative image.
The roots sink deeper and deeper into earth in search of a source of water. Water is an element that changes in shape and adapts to its surrounding environment, and the roots move freely, creating natural geometries in soil. The track I composed attempts to evoke and recreate this feeling and imagery in the listener.
---
Work in progress for realizing Center of gravity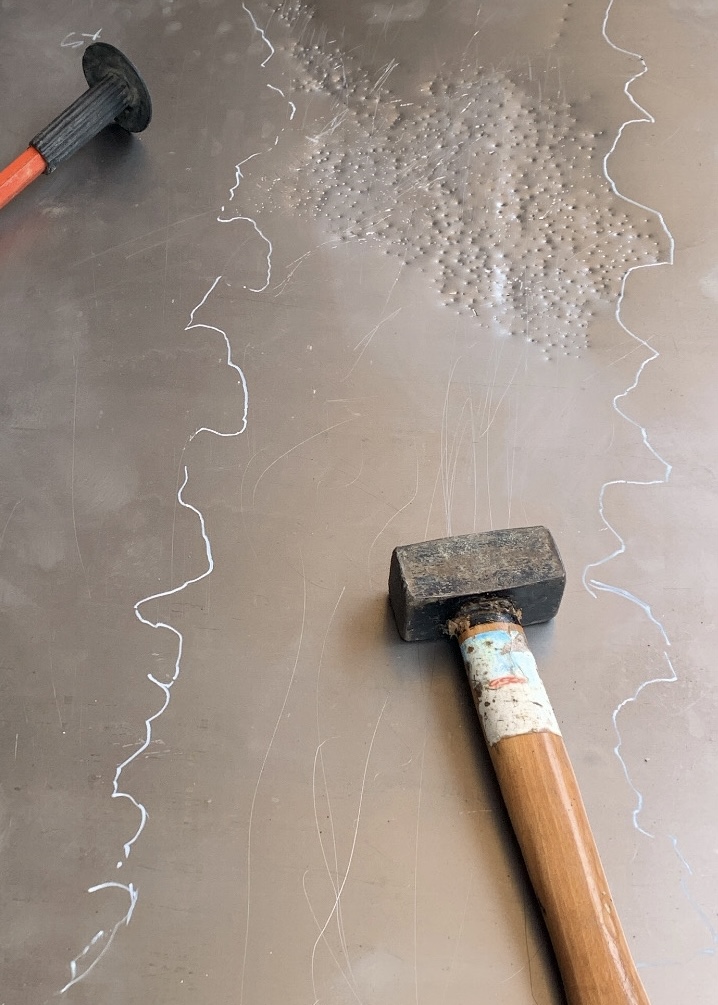 ---
Reach the installation at the Prada vineyard
---